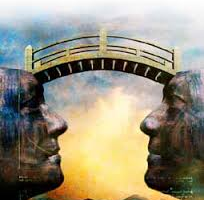 And……..How-to-become-a-great-communicator
Often after first drafting a speech or an article I look through and ask myself the question "what would my wife cut out of this?" Invariably its 60% or so of what I have written. My wife, I should add, is a successful author, journalist and historian and she can paint amazing mind images with such an economy of words.
What I realise is that with discipline I can and do communicate well but I am not a natural. As I commence a story around the family dinner table the "children", largely grown and successful now, groan and shout "make it quick or we are going" or "oh not that one again." 
Whilst not comparing myself (lol) with great communicators such as Winston Churchill, Franklin Roosevelt, John F Kennedy, Ronald Reagan, Nelson Mandela and Paul Keating I do occasionally wonder how Sunday lunch went down at their house.
Peggy Noonan was presidential speechwriter for most of Ronald Reagan's presidency and in her book she explains why the Reagan's presidency had such an impact on the world stage.
"He was often moving, but he was moving not because of the way he said things, he was moving because of what he said. He didn't say things in a big way; he said big things … Writers, reporters and historians were in a quandary in the Reagan years. 'The People,' as they put it, were obviously impressed by much of what Reagan said; this could not be completely dismissed."
Reagan was known as "The Great Communicator", yet it's a nickname he didn't altogether agree with.  In his farewell address to the nation and to the world, in his own humble way, he redirected the praise by saying:
"In all of that time I won a nickname, 'The Great Communicator.' But I never thought it was my style or the words I used that made a difference: It was the content. I wasn't a great communicator, but I communicated great things, and they didn't spring full bloom from my brow, they came from the heart of a great nation — from our experience, our wisdom, and our belief in principles that have guided us for two centuries."
My take on this is that it doesn't matter whether you are a president or a manager - your success will depend heavily on your communication skill.
What are the key actions of great communicators?
Engagement
Communication is just that, it's a two way flow of information. Great communicators know how to give and take and understand its importance. They not only initiate conversation, they steer the direction of and encourage others to join in the conversation.
Connection
Great communicators know that people won't listen unless they connect both intellectually and emotionally. Know your audience and start by conveying emotional stories that connect to their heart. It's all about the quality of the relationships the leader has with the people they communicate with.
I know several tough and very senior Australian business leaders who have met Bill Clinton on separate occasions both in Australia and in the US, each was impressed. In my post meeting discussions with them each said that when Bill Clinton talks with you, he makes you feel like you are the only person in the world. Wow. Show your listeners your empathy let them feel it and know you value their importance.
Humour
Great communicators are skilled in relaxing those with whom they communicate. An audience is often suspicious or defensive from over-communication and perhaps afraid of being "sold something".  Great communicators show genuine interest in the other person and use humour and authenticity to come across as understandable and authentic..
Clarification
If you overwhelm your listeners, you will lose them, they will tune you out from boredom or confusion. Reagan was best known for being simple and clear. Never assume just because you understand what you're saying that your audience does as well. Great communicators find ways to simplify though issues without being condescending.
Reinforcement
Great communicators know that an audience will retain only ten percent of what they hear, and therefore they are skilled at subtly reinforcing key ideas. They re-run their message throughout their presentations, speeches and writings. It is all about context and repetition.
Well I reckon that given the chance "my editor" would have pulled 15% of this and yet I think we are communicating OK!
---
Do you need help with
leadership?
There are 24 executive coaches on standby
---