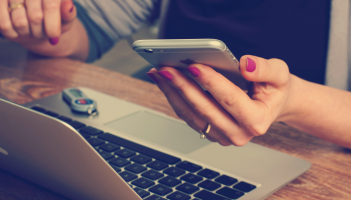 More users are spending larger amounts of time engaged with mobile devices than ever before and we can expect this trend to continue even further in the future.
So what are the nuts and bolts of mobile marketing?
Mobile marketing consists of ads that are served on mobile smartphones, tablets, or other mobile devices. Mobile marketing ad formats and styles vary because many social media platforms, websites, and mobile apps offer their own unique and tailored mobile ad options.
Why do you need a Mobile Marketing Strategy?
Because this is the age in which we live. Virtually everyone in the developed world now has access to a mobile device. According to recent reports, on average 40% of a user's internet time is spent on mobile devices, which means simply ignoring the rise of mobile just isn't an option. Some other interesting mobile marketing statistics include:
• 80% of mobile time being spent on using apps, with game apps eating up the largest % of app time
• Mobile searches have increased 200% year over year in 2012
• Mobile is predicted to surpass desktop in 2014
Which Mobile Marketing Strategies should I use?
The strategy that works best for your business will depend on your industry, target audience, and budget.
App-based marketing: This is creating and delivering advertising involving mobile apps. You don't have to create an app yourself to get in on the action. Services like Google AdMob help advertisers deliver ads to appear on third-party mobile apps. Facebook also allows advertisers to create ads that are integrated into Facebook's mobile application.
In-game mobile marketing: In-game mobile marketing refers to mobile ads that appear within mobile games. In-game ads can appear as banner pop-ups, full-page image ads or even video ads that appear between loading screens.
Location-based marketing: Location-based mobile ads are ads that appear on mobile devices based upon a user's location relative to a specific area or business. For example, some advertisers may only want their mobile ads to appear when users are within a short radius of their business ( eg Cafes, Restaurants, Pubs).
Mobile search ads: These are basic Google search ads built for mobile, often featuring extra add-on extensions like click-to-call – where the phone number is included in the search ad  - or maps.
Mobile image ads: These are image-based ads designed to appear on mobile devices.
Google Offers for Mobile: The Google Offers mobile ad extension lets advertisers post a discount offer or coupon beneath their ad.
Local Ad Extensions: Local ad extensions are probably the most important extensions for mobile, considering that 1 in 3 mobile searches have local intent. Considering how many mobile searches involve questions looking for a local solution, local mobile marketing needs to be a key aspect of your mobile strategy. Local mobile marketing extensions often involve a phone number or link to Google Maps.
A last thought.
Consider Your Audience. The type of audience you're hoping to reach should influence the kind of mobile ads you use. Are they gamers? Then consider in-game ads. Are they young and tech-savvy? Then Mobile Facebook Promoted Posts might be more likely to get their attention. And test and measure. Try some ad extensions with your AdWords Enhanced Campaigns – try the Google Offers ad extension, or the click-to-call extension, and see how they work for you!
---
Do you need help with
digital marketing?
There are 255 digital marketing experts on standby
---