It is exciting to bring your business to the largest shopping mall - the Internet.
Just like getting your business to a physical location, there are steps to make your online store a lot easier and more profitable to run.
This guide is for the existing businesses who are now ready to create their online shop

---
To start, I assume you have these key business foundation in place:
business license
accounting and legal structure
customer service phone + email
order fulfillment
If so, drum rolls please, time to move into the virtual mall. Let's outline key steps to get your online store set up here, in the order best done, and also explain them bit by bit.
1. Domain
The domain is the website address your customers will type into their computer browser to find you and it is the first thing to pay attention to when making your online store. When choosing a domain, think about your target customer location - if it is mainly Australian, choose .com.au, if it is mainly national, choose .com. There are others like .co and .me but they generally give a less credible presence. I recommend sticking to .com and .com.au. Remember domain name you get here is not permanent. You normally need to pay every year or 2 to continue registering as the owner of this domain name.
Tip: Search for your business name in places you can register the domain name cheaply. There is no advantage to pay more. I recommend GoDaddy and I use them myself as well.
2. Online Store
After running Teas.com.au online for 15 years and spending hundreds of thousands of dollars in developing 6 sites, I would say by far, Shopify* is the best. When it comes to choosing a shopping cart for your business, consider these:
Who will be running it every day - do you have a team to do it for you?
Are they easy to train? (there is always resistance when there is a system change)
Do you have LOTS of SKUs?
How easy is your current ordering system gel with the new cart?
Do you sell lots of customised products or product kits?
Can your cart deal with their customisations easily?
Any other systems the cart needs to talk to? For example, Xero for accounting, or current ERP or CRM.
Do you have another ongoing contract with IT or bank or other companies that will be costly to cut the contracts with them, so you can start fresh with an online-centric business system? (If the online sales will become your breadwinner)
To illustrate the building and running costs of different carts, including custom build website, I have created this table for you of the 6 sites we built.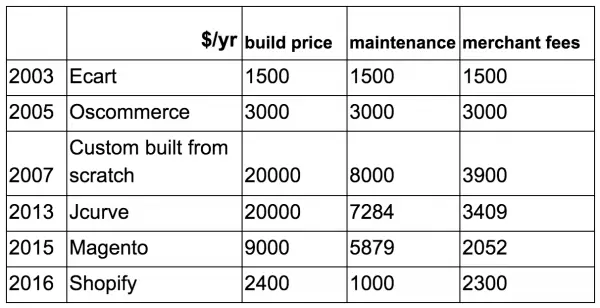 As you can see, Shopify is by far almost the cheapest to build. And it is the best we have built and used so far.
Maintenance cost includes ongoing support from developers or the like. With Shopify, we spend about $1000 a year (pay monthly) for add-ons to give us extra things like personalised upsell function, live Australia Post shipping calculation, a better search function and so on. You can do without paid add-on apps save that $1000 if you are on a shoestring budget, and happy to do a bit more manual work, like work out the Australia Post postage and email customers the postage for approval.
Merchant fee - must say, Shopify has made it super easy for me. Before Shopify, I needed to have my online merchant account with ANZ (all major banks offer them) with their monthly fee as well as their fee for every transaction. On top of that, I still need a merchant facility to move the money from customers card to my bank. I used eway and there are others around.
Not only there are more merchant fees to pay, there is more stuff to integrate, which means that there are more cats to herd in order to get everything working together every minute your web store is up. And you know cats don't like to be in a herd and play together at times.
More to love about Shopify:
Easy to go live. You can select a free template, drop a few test products, use their integrated checkout and payment system and ready to trade within a day!
(This is if you really know what you are doing. In most cases, I will recommend at least 2 weeks from start to finish if the setup is not complicated)
Fantastic support. Anytime - 3 am or 3 pm, you can use the chat and you get really good answers! The Shopify support is a good benchmark if you want to know what good online chat support should be like.
Light development time = less investment $. By far this is the site I needed LEAST time to go live. We took about 2 months but only because we have a lot of historic stuff to migrate from Mark 5 of our site from Magento.
Secure. Our site was hacked on December some years ago with another cart and it was not only expensive to fix but also soul destroying for a small business. With Shopify, security is their responsibility - they take care of SSL security certificate which you absolutely need in order to take credit card payments online. They take care of overall site security so you don't need to pay extra to make your site more "hacker-proof." This is one of those things many new online businesses neglect, but so important.
All hosted by Shopify. Some people may argue the means you can have this and not have that in the site because it is a hosted environment, but I would argue a business that has too many customisations are costly to run (we were there). So if you have a dedicated IT team, then go outside of Shopify and do a custom site.
If you run pain-free online store operation, Shopify is it. Since I have moved to Shopify, I don't even need a web developer. It is still better to get a web developer to build your site and help you to go live, but after that, you don't have to have one.  In most cases, you can get free or paid called apps inside Shopify app store. Most of the app developers are happy to install it for you free. I never have compatibility issues. The site runs smoothly. No more headache with geeky stuff.
3. Web development
My biggest saving with Shopify is time and money spent with web designer + developer for initial site creation and ongoing cost. Web development comes down to your end goal in terms of income. Most of the e-commerce clients I work with negate analytical functions on their online store. What gets measured will improve. If your store is there is get sale after sale, it is paramount that you know these key metrics (install reporting tools to get them in your cart):
Number of orders
Number of abandoned carts
Number of new customers
Most popular page/product
Which page people usually drop off (viewing your site or during checkout)
Talk to your developer about your objectives for investing in an online store. Be sure to work with an e-commerce web developer or designer, not just a web designer or developer. We learned this lesson hard with Mark 2 on our site development. Building e-commerce site is a business activity. The site needs to function well to sell. Speak to a developer who has experience in conversions, not just making your site look great.
4. Data migration
This is by far the geekiest, labour intensive of the whole website development. Considering you have a current business, that means there's data that needs to gel with your new shopping cart. Data such as customer details needs to flow between your current system to shopping cart system - either by manual entry, or automated, or a mix of the two.
Ideally, you want it completely automated to minimise error. For example, Xero can talk to Shopify quite nicely. If you create quotes, the online Quotient software is my favourite, which talks to Xero. Many software now can talk to each other using "bridging" software like Zapier. Your developer should be able to help your migration.
Be sure to have a tech-minded person in your team in charge of migration. There will be a lot of meticulous cross-checking involved. Data migration can massively balloon up your cost and time for web store deployment. Be sure your developer has well investigated on this part of the process from what you have to migrate to how the new system requires the data to be organised to be imported.
5. Integration with existing system
Besides the above migrational work, it is important to consider how this new store is going to fit into your sales eco-system. If you have a physical store, suggest your in-store customers to check out your online specials. If someone is buying online, offer them a pickup option in-store.
How does it work when your sales team go out to sell?
Will they use your e-store login to write up the sales?
If you have a current sales/order management system, do you really need to have that as well as the shopping cart system?
When it comes to order fulfillment, does your team fulfill online order first, or the current system order first?
And when an order is dispatched, which system sends out shipping confirmation email to the customer, if you do that?
6. Beta testing
I can't emphasise enough beta testing is KEY, especially if you are an e-store virgin! If you have been the person closest to the web development project, you have blindness. You cannot see the most obvious spelling mistake on the home page text, or a wrong product photo on page 4 of your product sub-category. Get your friends, teammates and anyone and everyone to test. Testing, depending on the size of the site, may take 2 weeks to 2 months. The important thing is set a deadline for this phase of the development, and then double it for fixing all the things need fixing (eg 2 weeks beta test + 2 weeks fixing).
7. Email marketing
We are chartering into what makes e-commerce magical, or painful, depending on how you feel about marketing. Most stores still negate email marketing. Your database (list) is gold. Start email marketing today, even if you don't have an e-commerce store yet. Start building your relationship with your customers so next time they buy, you are top of their minds. Time and again we are told email is dead. We all have too many emails in our inbox.
From writing my very first email newsletter 15 years ago and still writing them - they get sales. Facebook, etc. are nice to get your brand awareness up. But to have an intimate chat with your tribe, in your way, this is the place. Please don't abuse your readers. If your business is NOT about discounts and hard sell, don't make your news so. It will turn people off. (Email marketing is a giant topic. I will be brief here)
8. SEO
Just like email marketing, some say SEO is dead. I would say SEO is best done when you are not in a hurry. It is longline fishing. From someone with a business never took SEO seriously, I would say SEO has its value but it is a very long-term and heavy investment. You will harvest the fruit if you continuously pay someone to do SEO for you.
I frankly prefer to just write authentically and give value to my tribe, and that way Google picks up my content as relevant, which in turn will reward me with a higher ranking, which is essentially what good SEO would do at the end.
9.Social media
This thing is why most people walk around with their heads down and feeling scattered brain! Social media is useful if used strategically, with an end goal in mind. If you never have one setup - Facebook, Instagram, YouTube, Snapchat, etc, then start with the Mammoth - Facebook, and don't touch others till you get good at it (or someone in your team or outsource it if you must). Start your social media page now, even if your site is not up. Start drumming interest and collect email and names.
The biggest mistake most businesses make is to take your readers OFF YOUR STORE WEBSITE by offering the social media icons in a prominent place on your page. Your store website is your HQ. Always bring people in your HQ, not out. Link up your favourite social media channel to your site in such a way when someone clicks on the icon, it OPENS A NEW PAGE, not replacing your website site page. IMPORTANT!
10. Final testing
We are nearly there! Test everything again. Some developer likes to fix things as they develop, and others like to compile a list and do them in one hit. Whichever one agreed between you and the developer, be sure to tick them all off this time. Track and coordinate on a Google sheet all the comments and key dates, if there isn't an agreed project management tool used.
11. GO LIVE!!
The first week of going live is likely to be a little bit bumpy, so have your web developer standby. I recommend a soft launch, maybe telling only a small group of your "nice" customers. Good to involve both the geeky and non-tech customers for feedback.
---
So, here are your steps to create your online empire.
E-commerce, once done well, is no different to another sales team. It gives you as many rewards as you give in to create it.
I have seen many businesses building a store half-heartedly with no upper management commitment to make it accountable for sales. If you leave it to chance, it will just wither in a corner and not give you the profits that you are after. Shopify is certainly a fantastic tool, but the master of this tool must be intentional.
If you are ready to build an awesome e-commerce store online, sit down and work out the answers for these 3 questions:
What is the must-have for this website?
How much do you want the e-commerce store to earn for you?
How much can you invest in building it?
---
Do you need help with
ecommerce?
---