SEO services include keyword research, SEO audits, on-page optimisation, backlinking and SEO reporting. SEO projects typically require at least 6 months of commitment to get traction.
How much does it cost to do SEO? The honest answer is, it really depends. Cheap SEO services are available, but you run the risk of penalties and bans from Google if it's not done correctly.
Despite knowing the importance of SEO, many business owners have no idea how much they should be spending on it.
In this article, learn how much to spend on SEO services as a small business.
---
Most business owners now realise the importance of SEO as an integral part of their marketing strategy. Higher levels of website traffic, better quality visitors, increased visibility, credibility and trust for your brand are just some of the benefits that SEO provides.
Despite knowing that SEO is a crucial investment, many business owners have no idea how much they should actually be spending on it.
If you ask an SEO company "how much do you charge" it can be difficult to get a precise answer. Usually the reply will be "how long is a piece of string" or "it depends". This is because SEO is not a 'one size fits all' solution and the specific strategies and amount of work required can vary from client to client.
Types of SEO Services
SEO is becoming more diverse and there is a range of strategies required to make your website more appealing to the search engines. Crucial parts of SEO include:
site audits
keyword and competitor research
selection of keyword themes
on-page optimisation
content creation
link building
 reporting.
Some agencies might also offer social media management as part of the SEO package and the number of social channels they manage for you, together with posting regularity can also influence pricing.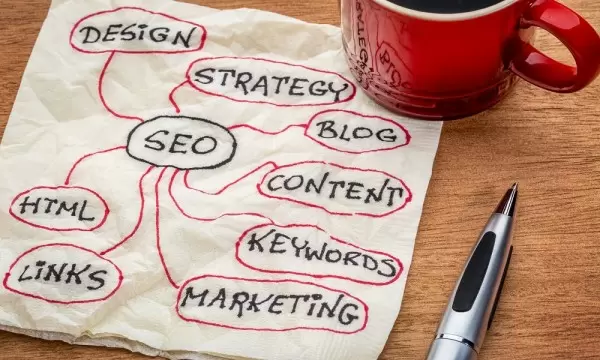 The size of your website and the competitiveness of your keywords will also contribute to the amount of work needed and hence the price you can expect to pay. If you run an e-commerce website with hundreds of different categories this will obviously cost a lot more to optimise than a website with a niche product in a small geographic area.
A recent study by Ahrefs surveyed over 350 SEO agencies, consultants and freelancers around their pricing. For the Australian companies, nearly half charged between $1000-2000/month for their SEO. Nearly one third charged between $2500-5000 and about 16% charged under $1000/month.  
Companies will also charge based on their experience and skill level. A highly skilled firm with household name clients will charge a premium whereas a freelancer just starting out will be willing to work for a lot cheaper. This was also evident in the Ahrefs study with 40% of freelancers charging between $250-1000/month.
But don't forget the old adage, you get what you pay for!
How Much Should I Spend on SEO as a Small Business?
As a ballpark price for good SEO services for a small to medium business, you should expect to invest between $1000-2500/month for a good quality SEO campaign.
A reputable agency offering a comprehensive strategy will need to invest a minimum of 10-15 hours a month to perform the necessary tasks to help your business rank higher.
In the earliest months of a campaign, this will focus more strongly on:
learning about your brand and target market
site crawl and audit
keyword and competitor analyses
effective on-page optimisation
setting up/configuring/integrating online accounts (Analytics, GMB, social media)
And after the first few months, the focus will move more to:
link building strategies
content creation (improving existing pages, creating new landing pages, blog articles)
reporting and monitoring
That's not to say you can't get good SEO done for under $1000. In fact, there are agencies charging $500/month that will still do a good job. But a lot will come down to the number of keyword themes you want to target and the level of competition for your niche.
The Risk of Cheap SEO
Unfortunately, there are individuals and companies out there selling "SEO services" at very low prices. But as discussed above, there is a lot involved in providing quality effective SEO and these cheap companies will not be initiating a campaign that addresses all the necessary factors.
Instead, they will be offering some basic services which won't have much impact, or even worse, implement low quality or unsavoury tactics that could see you wind up getting banned by Google.
On the surface, some business owners see these cheap offerings for SEO (sometimes as low as $100-200/month) and think that's all they need to spend to get good results. But unless you are in a niche with incredibly low competition, this level of investment is going to see strategies that have very little impact – or even harm your brand. I'll say it again, you get what you pay for!
Measuring the ROI of SEO
Knowing if your SEO company is providing value for money is crucial to determine whether it is worth continuing with their services. At the very least you should be provided with a monthly report that shows:
the rankings of your target keywords
the amount of organic traffic your website is receiving
If you're targeting the right keywords, starting to rank well for them, and the visitors to your website are increasing, things are heading in the right direction and you should start to generate higher sales.
Some companies will take things a step further and measure actual conversions. When a visitor on your website takes a specific action (such as filling out an enquiry form, purchasing a product, signing up to your mailing list or calling your phone number) this can be recorded. Using this data, you can see if the SEO campaign has resulted in increased leads for your business.
How Long Should You Invest in SEO Services?
SEO should be an ongoing process. Google is always changing, and a good SEO firm will ensure your campaign is adjusted to conform with the latest algorithm updates. They will also continue to enhance your link profile so that your domain authority (and importance in Google's eyes) keeps growing. They will ensure your site stays optimised and new fresh content is added on a regular basis, another key indicator of a quality website.
Many SEO agencies require a minimum 6-month commitment when starting a new campaign, usually because this is how long it can take to see the full effect of the SEO. By then you will have a good idea of the results you are getting. Other agencies will have no contract length but advise clients that SEO is a gradual process and you should have a 6-month vision before assessing its worthiness.
Since you may not see results for at least a few months, it makes hiring a good firm even more crucial. Here are some tips that will weed out the less suitable prospects.
ask questions about what you're getting for your money; if they're distant or cagey that's a big warning sign
ask for a rundown of the work you can expect to receive over the first 6 months
ask for case studies of other clients they have performed SEO for
A good SEO company should be confident in answering all of these questions. Transparency is the key in this industry and although a company might not reveal their exact secrets about how they will rank you on page 1 of Google, they should be able to provide a general overview of what they will be doing.
Referrals are also a great way to ensure you are getting a good company. Ask friends and colleagues who have used an SEO firm about their experience and get a shortlist of 3 or 4 who have provided a positive service.
Budget will also play a part in your choice but it's important to remember that your website is one of the most important marketing tools for your business. Therefore helping potential customers find your site should be a priority if you're wanting to be successful.
---
Do you need help with
search engine optimisation (SEO)?
There are 222 SEO companies on standby
---