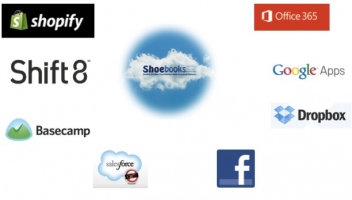 Gone are the days that your accounting software is just a means to an end for sending invoices, preparing your BAS/IAS or giving your accountant the data they need to prepare your end of year financials and tax returns.
As a business owner myself, I too saw our accounting software more as a "painful" part of my business to deal but thankfully, my eyes were opened to new ways of managing my business internally as well as how I could transform the way I worked with new and existing customers.
With the emergence of online accounting software providers, your accounting software should actually act as the hub for your entire business, doing all the hard work for you while you sit back and focus on the areas of your business or life that you are passionate about.
Here are just a few ideas to help you get the most out of your accounting platform:
Move your accounts to the cloud
Unless your using a terminal server to access your accounting software, your are generally restricted by how you can get access to real time information. You should be able to access your critical financial information from anywhere at anytime. Makes going away on holidays a lot less stressful.
Get rid of all those spreadsheets
Why waste time (or someone else's time) performing data entry to produce spreadsheets when you accounting software should be able to do this for you?
Increase your cashflow
Automatically email out invoices and debtor follow-up reminders. Who would say no to that?
Remove data entry processes
Create more capacity so your admin team can perform "revenue" generating tasks rather than data entry tasks.
Find ways to remove bottlenecks in your back office procedures
Look at how your existing data flows through existing systems or manually processed by people and what are the outcomes? Chat to you accounting software company about integrating your systems or at least be able to import information into your accounting platform.
Attract customers from new geographical regions
With cloud accounting platforms, it's easy to setup remote or satellite offices using the same account, give your remote workforce access to the critical information they need to work with customers and you the business owners can maintain full visibility around the performance of each location.
Find out what is working and not working 
Whether it's a division, department, product, service, jobs or promotions within your business, this is a great way to sharpen your axe!
Review your IT spend
The possibilities around the 'cloud' are endless (not just accounting software)– no more need to own or upgrade servers, back ups, security, software or your local IT person walking around updating desktops.
Work closer with your bookkeeper or accountant
Give them access to real time reports so they can help you grow, be profitable, and minimize tax along the way. Not reactively accounting!
If the little light bulb in your head hasn't gone of yet, it time to look beyond what tasks your accounting software is doing for you right now and start to plan how it can transform your business processes in the future. Every business needs some sort of accounting software but it's up to you about how you leverage you business using it.
Here's my tip of the week
Sit down with you team this week and map out one process from start to finish (the finish usually being entered into your accounting software). From here research how you could remove 1 or 2 steps from the process.
If you need help exploring system integration or the right cloud accounting software solution, get help from an external party or your accounting software provider.
Until next time…
---
Do you need help with
accounting?
There are 295 accountants on standby
---