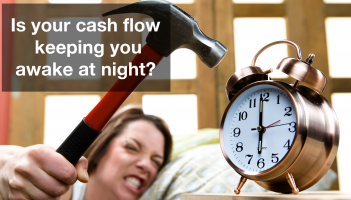 Christmas is only 10 weeks away! Will you have enough cash in the bank to get you through?
Like most businesses, Christmas time is not always about laughter and celebration. For business owners, the harsh reality of your business closing down for 2 weeks (unless you're your in the retail, hospitality or online space), means that there is limited contact with customers, no work going out the door, no invoices going out and no cash coming in.
It can take a business until March to start getting back on top of their cash flow. However, with a few different things you can start to focus on right now, may mean you can sleep at night while on your Christmas break!
Time to focus on collecting money and gathering information to complete jobs over the next 10 weeks. 
Here are a few ideas you can use;
1. Set yourself 2 types of goals for the next 10 weeks. 
The first goal is around cash in the bank - set a goal of what you need by the time Christmas is here and then break it down week by week. For example, if you need $100K in the bank, you need to work out the balance between what's coming in and going out each week and find the total that will net you $10K per week, cash in the bank.
Second goal is to plan out what information, materials or other requirements you need to get from customers and suppliers so you have enough work in your pipeline to get you through Christmas and make January a productive month – don't be chasing customers in early January. You won't hear back from them.
2. Communicate your 'cash in' goals with your accounts receivable team.
Get your engine room working for you. Sit down with your team and work through the below:
Which customers fall into 7 / 14 / 21 / 28 outstanding debtors.
Focus on the 'low hanging fruit' – customers sitting in 7/14/21 days are going to be a lot easier to collect money from than the customers that have long standing amounts.
Get a system in place to be sending emails, letters and calling these clients, regularly.
Look at ways you can automate the process? If you accounting software cannot automatically send invoices or debtor follow reminders then how else can you use technology to make it easier to communicate with clients.
Which customers can go onto direct debits or upfront payments?
3. Monitor you in's and out each day / week / month
Now it's time to keep you fingers on the pulse. Your customers don't magically start paying on time (there are ways to turn this around but that's for another time).
Research how you can easily get the indicators you need at a click of a button. Again, if your accounting software cannot do this for you, then it's time to start researching something better for your business.
Set and commit to a specific day and time each week to look at the cash flow indicators with your team. Monday morning at 10.08am could be something a little different to try!
4. Start banking customer jobs and the materials or information you need now.
Customers start to switch off themselves 4 weeks before Christmas and unless they have urgent needs before hand, they will be happy to wait until January.
The more work / jobs or orders you have in your business before Christmas means you could potentially be able to complete certain tasks so you can invoice customers over Christmas and early January. 
Take advantage of employees that like working over the Christmas break or look at some of the outsourcing services around.
Also, find ways to communicate to your clients about the benefits of getting information to you now using some of the following;
Incentives or offers
Let them know that you will prioritize their work.
Value added products or services you can offer them.
Give them deadlines and have a team member follow them up.
5. Re-engineer the way you do business for 2014
Easy said than done. Here are my tips for 2014!
Set new expectations with customers. Don't let the tail wag the dog!
Take advantage of cloud technology. There are unlimited possibilities out there to grow in 2014.
Automate your business processes especially around invoicing and payment collection – better cash flow!
Identify what's not working and what is. Focus on what is and grow that. What's not working needs some analysis but it may be time to let it go!
---
Do you need help with
finance?
There are 105 finance brokers on standby
---