About
Our end of lease services and exit cleaning services in Brisbane comes with 100% bond return guarantee!
Our expert cleaners understand how important it is to vacate a property and have it cleaned and inspected. We know exactly what the real estate companies are looking for when inspecting a vacant rental property. Our expert bond cleaners in Brisbane follow a thorough exit cleaning checklist that ensures the home you are leaving looks immaculate releasing you from the burden of bond cleaning that demands much of your time and ticking off another box on your to-do list.
Our highly trained domestic vacate cleaners work to adhere to our tailored RTA approved exit cleaning checklist that covers every square inch of your vacant property releasing you of stress during a busy time of moving out of you house and into your new home.
Solutions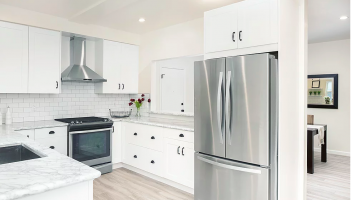 Bond Cleaning Service
Exit Clean Includes

- Dusting and wiping of walls, skirtings, doors, screens, blinds, light fittings and exhaust fans.
- Vacuum and mop all floor coverings.
- Vacuum, dust and wipe inside all cupboards and drawers.
- Wipe down and scrub any stubborn stains on benched, splash backs and tiling.
More
FAQ
Why should a customer hire your business over other service professionals?
We are the leading bond cleaning service provider in Brisbane who specialises in bond cleaning, vacate cleaning, end of lease cleaning and exit cleaning, whichever you prefer to call it. We take pride in our domestic cleaning duties and work to the highest standard to deliver a superior finish to your home every time, one that is sure to make your vacating experience a smooth and impressive transition for your family, real-estate agent and landlord. As a tenant you are duty-bound by contract to leave the house as it was at the time of leasing making sure everything is maintained and cleaned as mentioned in your tenancy agreement contract. Inhabiting a residence for quite some time brings many memories to a family but those memories also bring about dirt, dust, grease, mould, grime and other nasty unwanted stains that can be quiet difficult and time consuming to remove. We focus our attention on cleaning all those hard-to-reach areas and in every nook and corner to help get you 100% of your bond back.
Which geographical areas does your business service?
Acacia Ridge, 4110 Annerley, 4103 Ascot, 4007 Aspley, 4034 Auchenflower, 4066 Banyo, 4014 Bardon, 4065 Beenliegh, 4207 Bellbowrie, 4070 Belmont, 4153 Booval, 4304 Boronia Heights, 4124 Bowen Hills, 4006 Brisbane Brookfield, 4069 Browns Plains, 4118 Calamvale, 4116 Camira, 4300 Cannon Hill, 4170 Carina, 4152 Carindale, 4152 Chambers Flat, 4133 Chermside, 4032 Chandler, 4155 Collingwood Park, 4301 Cooparoo, 4151 Corinda, 4075 Crestmead, 4132 Eagle Farm, 4009 Eagleby, 4207 East Brisbane, 4169 Edens Landing, 4207 Eight Mile Plains, 4113 Enoggera, 4051 Everton Park, 4053 Flagstone, 4280 Forest Lake, 4078 Fortitude Valley, 4006 Geebung, 4034 Goodna, 4300 Graceville, 4075 Greenbank, 4124 Gumdale, 4154 Heathwood, 4110 Holland Park, 4121 Indooroopilly, 4068 Ipswich, 4305 Jimboomba, 4280 Jindalee, 4074 Kedron, 4031 Kelvin Grove, 4059 Kenmore, 4069 Logan Village, 4207 Loganholme, 4129 Lutwyche, 4030 Lytton, 4178 Manly, 4179 Manly West, 4179 Marsden, 4132 Moggill, 4070 Moorooka, 4105 Mount Warren Park, 4207 Mt Gravatt, 4122 Munruben, 4125 New Beith, 4124 New Farm, 4005 Nundah, 4012 Ormeau, 4208 Paddington, 4064 Park Ridge, 4125 Parkinson, 4115 Raceview, 4305 Redbank Plains, 4301 Redbank, 4301 Richlands, 4077 Ripley, 4306 Rochedale, 4123 Rocklea, 4106 Runcorn, 4113 Shailer Park, 4128 Sherwood, 4075 Slacks Creek, 4127 South Brisbane, 4101 South Brisbane, 4101 Spring Mountain, 4124 Springfield Lakes, 4300
How do you normally charge for your services?
At the time of booking we give you the option to pay by credit card upfront or cash in person on the day. If you chose to pay by cash but did not get time to visit an ATM before meeting with our cleaners we still have you covered! All our payment details will be on your invoice to make an electronic transfer if need be.
Is an appointment necessary?
Yes an appointment is very much necessary! You may book your services on our website or alternatively call one of our friendly team member to book your professional bond clean in for you today!
What are your customers` most frequently asked questions?
What is the 100% Bond Back Guarantee? Our expert domestic bond cleaners follow an agent approved exit cleaning checklist. If the property manager notices an item on the checklist that may have been missed accidentally then we will send one of our team back out to the property free of charge to satisfy the checklist item missed. Do I need to be home when the bond cleaners come? No you do not! Your property should be empty by the time our cleaners come to work their magic, therefore it is up to you whether you wish to leave a spare key for the cleaners or alternatively leave the house unlocked for them. Either way we will lock up once we have finished carrying out all the exit cleaning checklist duties. When booking please let us know your intentions for us to enter. Thanks! Do your bond cleaners steam clean the carpets? The carpets are vacuumed by our cleaners and not steam cleaned. This is because not every rental property is required to have their carpets steam clean. You must check your tenancy agreement to find out if this requirement is imposed on
Recommendation
(
0
)
Add

recommendation