About
At ABC, the day starts and ends with our trip. We don't own multiple boats, we are not owned by a multi national and we don't have a human resources department. We have always been, and remain, a small dedicated operator focused on providing you with exceptional customer service and a fun day. Our hand picked staff are our most valuable resource and they work hard to ensure that your day on the Great Barrier Reef is a special part of your holiday.

We are proud to be able to take and guide just a tiny group of divers or and snorkelers to the outer Great Barrier Reef. It was realised early on with our first boat "Sweetlips" that small was best and we have continued in the extremly small group idea to our newer, faster and more luxurious boat "Independence 1".
Current Offers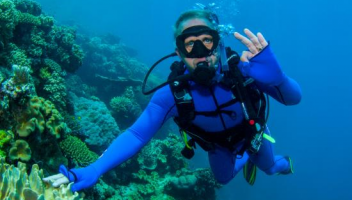 ABC Scuba Diving Port Douglas
Cruise - Snorkel - Dive the best and most stunning Outer Great Barrier Reef locations with just a handful of people.
FAQ
Why should a customer hire your business over other service professionals?
Great Barrier Reef Tours from Port Douglas – Choose the highest rated Dive & Snorkel Boat in Port Douglas. ABC Dive & Snorkel Port Douglas is all about low impact and extremely low passenger numbers. In fact we take less passengers than any other day boat from Port Douglas. We dive & snorkel in pristine un-visited environments offering you a rare thrill, not the standard experience of visitors to the Great Barrier Reef. ABC is visiting the reef the way it should be done. Your group may be the only ones in the water and our boat the only one we see. This is your chance to be an explorer, uncovering a brand new dive or snorkel site.
Which geographical areas does your business service?
Port Douglas
What makes your pricing competitive?
The Great Barrier Reef is a once in a lifetime activity for most, so you want to ensure that you get the amazing experience that you have always dreamed of. Exceptional customer service, top quality equipment and vessel, amazing locations and low numbers. Like all business, you get what you pay for. It really is a numbers game, the more people you take to the reef the lower the price, the less people you take the higher the price. Small exclusive groups comes at a small premium. Our higher cost offsets the fact that we only take a maximum of 12 passengers, with a personalised service and experience. That being said, we are not the most expensive dive centre in Port Douglas, but we are the only PADI dive centre using our own dive boat offering spectacular diving at uncrowded, exciting, new and different locations. We cater our experience for the needs of our customers on a day to day basis. On top of that, many other tours have hidden extra charges. We are all inclusive with nothing extra to pay. When you add up the extras charged on other boats, we are even cheaper than many. We include your reef tax, your equipment hire (incl. suits and prescription masks), soft drinks. Not to mention the size of our in-water groups.
How do you normally charge for your services?
We believe that you should only have to pay once, with no hidden extras on the day. This means that we include many things that are often additional extras on other tours. Included: -Food throughout the day (morning muffins, mid-morning fruit and cake, buffet-style lunch with a selection of meats, salads and breads, afternoon cake) and soft drinks / water -All top quality equipment including wet suits, stinger suits, all snorkel and dive equipment and even prescription masks (if required) -Snorkel tuition if inexperienced -Snorkel and dive guides included in the price -3 different reef locations • Certified divers 3 dives (dive times can vary re personal skill level. Depth & site location) • Introductory divers 3 dives (please note that on dive 1 your actual dive time is directly related to how long the PADI skills take to complete) • Snorkelers: unlimited snorkeling on 3 spectacular sites -Local pickup / drop off
Do you have an app?
No, we do not have an app.
Recommendation
(
0
)
Add

recommendation