About
Tracey Miller at artation designs targeted art making experiences for team building at conferences and special events.
She provides high impact results that reflect your corporate image, goals, brand and strategies. As a bonus, your people will have a permanent and tangible reminder of the themes and aims of your conference.
Solutions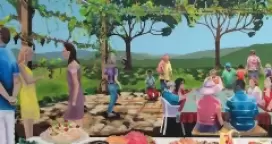 Murals
Art making is a powerful conduit for communication. artation works with small and large groups to visually describe, reflect and reinforce your goals and messages. One way we accomplish this is to make a permanent wall painting in the form of a mural or trompe l'oeil. Your team will have ownership of their surroundings and continue to enjoy their work environment. Murals can have a tremendous impact on morale and productivity.
Recommendation
(
0
)
Add

recommendation
Popular Q&A
Hi SandraLast year I started my business artation which is making art work for team building. Working to a theme of your choice we provide a painting activity for your people. For example the theme of the painting might be the aims of the...