About
The Challenge Settlements team offers a range of settlement services delivered by experienced professionals and supported by dedicated employees, we have a fundamental commitment to provide both professional and personal service, guiding you effectively through the settlement process.

When you engage Challenge Settlement Services you will receive a high level of professional service by a qualified Conveyancer who will be committed to you Monday to Friday and on mobile at any time outside of normal business hours.

Settlement agents, also known as Conveyancers, are responsible for conveying an interest in land from one party to another, normally, from a seller to a buyer. This may sound like a simple duty to undertake, however no two transactions are the same and there are many variables to consider depending on the type of settlement or conveyancing services this is required.
Solutions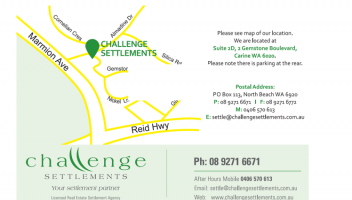 a Brief Summary of our Settlement Services include the following:
Residential Settlements
Vacant Land Settlements
First Home Buyers Settlements
Farming Property Settlements
Commercial Settlements
Deceased Estate Transfers
Survivorship Applications
Family and Related Party Transfers
Change of name on Title Applications
Family Court Order Land Transfers
FAQ
Do you offer after-hours services?
yes call 0406 570 613 any time we will assist you with any queries you have.
Why should a customer hire your business over other service professionals?
at Challenge Settlements our team is committed to providing a personal service, if you don't live near Carine we can bring the paperwork to you at the time that is convenient. we guide your clients effectively through the settlement process.
Which geographical areas does your business service?
all of WA
What experience, certificates, and licenses does your business have to qualify for the job?
we have a Real Estate Settlement agents license from the Department of Commerce
Is an appointment necessary?
appointments are not necessary during office ours. after hours please call to make appointments.
Recommendation
(
0
)
Add

recommendation