Latest Updates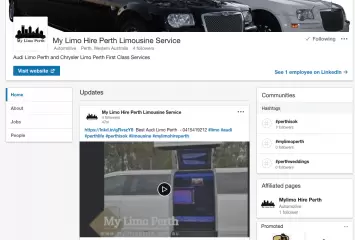 ?>
My Limo Hire Perth are on LinkedIn, view our company profile here.
My Limo Hire Perth are on LinkedIn, view our company profile here. https://www.linkedin.com/company/mylimo-perth/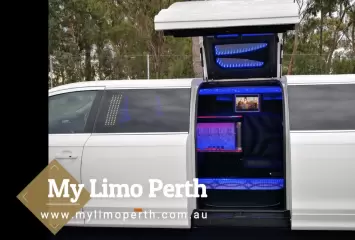 ?>
Easy to Book Audi Limousine in Perth
Book our gorgeous stretch Audi Limo in five minutes. We will just check your date, and time and pickup suburb and can book your char...
About
Luxury Limo Hire in Perth featuring the Audi Limo and the Chrysler Limo in Pristine white for a first Class Service. Professional Wedding Car limousine services as as well as general last minute limo hire services in Perth and Western Australia. My Limo Hire Perth offer 11 seater Chrysler and 14 seater Audi stretch limousines. The Audi Limousine features a central Jet Door and the Chrysler Limousine features lambourgini doors.
Services
Tourist Attractions Information &/or Services
Transport Services
Current Offers
Wedding Limousine Service - Audi Q7
Wedding Car transport in a luxury 14 passenger stretch limousine with central Bridal Door.
School Ball Limousine Service
Providing a memorable and luxury transport service for School Ball Students in Perth, Western Australia
FAQ
Why should a customer hire your business over other service professionals?
The point of difference that My Limo Hire Perth offer is a genuine and authentic commitment to a quality service and fine presentation of the stretch limousines that we provide.
Which geographical areas does your business service?
My Limo Hire Perth service the Perth metropolitan area, Fremantle, Mandurah, Joondalup and the South West of WA including Busselton, Bunbury, Dunsborough and the winery region.
What makes your pricing competitive?
My Limo Hire Perth offer the most competitive pricing we can and still provide a First Class Service. We do not advertise therefore most of our service is received by word of mouth and our reputation.
What is the profile of your ideal customer? e.g. industry, size of business, revenue, number of employees and so on.
The profile of My Limo Hire Perth Clientele range from young children celebrating a birthday to grandparents using the stretch limousine for the very first time in their lives.
What are your customers` most frequently asked questions?
Do you provide a Red Carpet Service Are you Fully Insured Does the price include GST Is your limousine available on my particular date How much does it cost to hire a stretch limousine.
What experience, certificates, and licenses does your business have to qualify for the job?
Department of Transport Omnibus Licence, F Class Licence, Perth Limousine Industry.
Are there specific areas of your trade or industry that your business specialises in?
We specialise in offering the sought after Audi Stretch Limousine in a 2018 model.
Customer reviews
Add a review