About
We are a company driven by people who care.

"A rolling stone gathers no moss, but instead pursues a certain polish".

We are a boutique consultancy specialising in tech, agility, games, and innovation. #9 on the Deloitte Technology Fast50. #86 on the Financial Review Fast 100 2018. We excel at helping you identify and solve problems with your business. Whether it's needing better quality technology solutions, helping your workforce be happier and work healthier, or exploring new areas with innovation and marketing, we can help.
Services
Business Consulting
Computer Software & Packages
Management Consultants
Current Offers
Business Coaching
We can help your business operate in a happier and healthier way. By working with you, we can help train you and your employees in better work practices.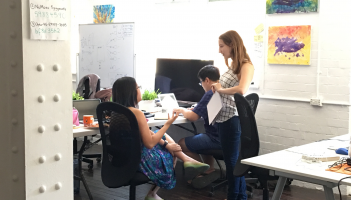 Web Development
We can bring our expertise to your software project, building a scalable and comprehensive solution tailored to your specific need.
FAQ
Why should a customer hire your business over other service professionals?
We have the technical experience, business know-how and level of care that is unmatched by other businesses. There are a lot of consultancies, but the thing that sets us apart, and keeps our customers coming back to us, is that we will care about your problem. We pride ourselves on not just doing work, but on understanding you, your problem, and helping you come to the best possible solution. A large number of businesses come to us because they have tried other consultancies, and have found the process to be incredibly dissatisfying. Once they see the No Moss Way, once they feel the difference, they can never go back.
How do you normally charge for your services?
The common way that we charge for our services is by working out an appropriate team cost per week, and placing an experienced team within your business. This way, you get to know the people that you are working with, and come to have a stable and dependable team working for you and your goals.
Which geographical areas does your business service?
We traditionally work with business within the Sydney area, as we find that the ability to work face to face with us leads to much better business outcomes. However, we have clients who work with us from around Australia, or from overseas, and we are happy to enter into this situation if it suits your business.
What experience, certificates, and licenses does your business have to qualify for the job?
We have been doing the work that we do for many years. In management consulting, we are certified as one of the top providers of Agility training in Australia. In Technology, we are experienced product managers and developers, able to handle any challenge. In Innovation, we have received a number of awards, and worked with companies who are on the cutting edge of innovative technologies, and can bring that mindset to your business.
What is the profile of your ideal customer? e.g. industry, size of business, revenue, number of employees and so on.
We love working with businesses of any size. Whether it's a new startup trying to make their first web page, or a big four bank trying to improve their processes at scale, we are able to adapt and operate within any environment. The ideal customer for us is one who wants to collaborate with us. We aren't just there to work, we are there to help.
Customer reviews
Add a review