About
Peter Nguyen Fitness personal trainer Brisbane provides high-quality personal training services in Brisbane. I help people lose 10-30 kilos of weight, tone up, build muscle & get stronger by creating a custom training and nutrition plan that gets results that suits their lifestyle - even if you tried and failed at every program before. 30 Day Money Back Guaranteed. We ensure that you are performing each and every exercise with good form so that you burn the most amount of calories within your training sessions. We focus more on improving your weaker muscle groups as this will create symmetry, increase your strength, build more muscle and burn more calories - as you are requiring more energy to now work those under active muscle groups. We tailor your program and do not give you a cookie cutter program.
Solutions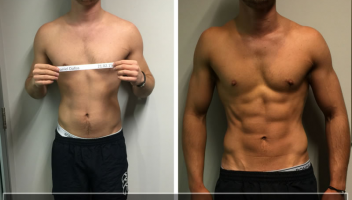 Fitness and Personal Training
Peter-Nguyen-Fitness-Personal-Trainer-Brisbane-Muscle-Building
We assess and identify your current lean muscle mass. We then allocate the right exercises for you to strengthening and building muscle to weaker muscle groups. We then provide you with a flexible nutrition plan to help retain and build lean muscle mass whilst chipping away body fat.
Fitness and Personal Training
Peter-Nguyen-Fitness-Personal-Trainer-Brisbane-Weight-Loss
We will customize your training and nutrition program so that you lose the most and safest amount of weight without losing precious lean muscle mass. You tell use your lifestyle and we will tell you how much food and training you need to do to reach your goal.
FAQ
Why should a customer hire your business over other service professionals?
We guarantee you results. We get you to train and eat smarter so that it suits your lifestyle to ensure long-term sustainable results - without the effects of yo-yoing or binge eating.
How is your business insured and what guarantees do you provide your customers?
We have public liability insurance. We guarantee you results if you stay consistent & follow through with your personalised training & nutrition plan. We maximise your results by ensuring you activate as many muscles possible during each exercise, that way you burn more calories & build more muscles
Which geographical areas does your business service?
Lutwyche QLD, Windsor QLD, Chermside QLD, Nundah QLD, Kedron QLD, Gordon Park QLD, Grange QLD, Albion QLD, Wooloowin QLD, Newmarket QLD, Bowen Hills QLD, Herston QLD, Fortitude Valley QLD, Stafford QLD, Hamilton QLD, Wavell Heights QLD, Geebung QLD, Northgate QLD, Ascot QLD, Wilston QLD,
What experience, certificates, and licenses does your business have to qualify for the job?
Strength and condition, Powerlifting, First Aid and CPR, Nutrition
How do you normally charge for your services?
Direct Debit and Credit Card
Recommendation
(
0
)
Add

recommendation