About
The popularity of Underfloor Heating has risen dramatically during the last few years, with many of our customers saying that underfloor heating is the best type of heating they have ever experienced and in most cases, no other heating is required. In fact many people go on to recommend under floor heating to friends and family who are building. Today's systems are fully controllable; they can be independently zoned to individual rooms and they are extremely reliable.

Queensland Floor Heating offer a free quote and design service. Underfloor heating is an affordable luxury for any new home or renovation. We offer a great range of DIY kits with easy to follow instructions.
Services
Heating Appliances &/or Systems
Current Offers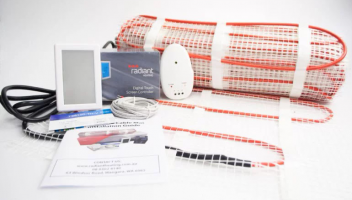 Heating Appliances &/or Systems
Under Floor Cable Mat for Living
Underfloor Heating Cable Mat – is a easy fit stitched on self-adhesive mesh. The cable incorporates twin heating core and a full earth screen for total protection and comes with a 10 YEAR WARRANTY. The advantage of this system is the cables are simply tiled over making it both perfect for renovation
FAQ
What makes your pricing competitive?
The floor heating is economical due to the way that it works, heating from the floor upwards, the same comfort conditions as other heating methods can be achieved at a slightly lower overall room temperature. This, combined with the energy saving thermostat, which delivers just enough power to maintain your desired temperature, can result in significant energy savings with running costs in the average bathroom would be no more than a few cents per day.
Be the first to recommend
Add recommendation