Latest Updates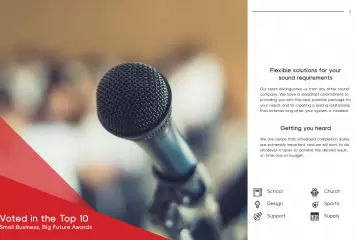 ?>
What We DO
This is what we do... Check it out.
About
Sandman Sound is an Melbourne PA systems design company serving all of Melbourne with services such as PA Systems and wireless microphone installations as well as in ear monitors. We work with you to understand your exact PA Systems needs and put together the best package for your budget. What distinguishes Sandman Sound from any other sound company is our people who delivery excellent customer service.

We provide a stead-fast commitment to providing you with the best possible PA systems for your needs whether you are a club, school or Church and to creating a lasting relationship that extends long after your PA systems is installed. We provide PA Systems solutions for Schools, Churches, Factories/ Warehouses, Restaurants and Sports Centres.
Services
Audiovisual Equipment & Productions