About
At Strawberry Seed, we are passionate about providing Human Resources and Recruitment support to Small Business.

We work with businesses who are starting to grow to set them up right from the beginning, giving them a strong base to start to employ. We work with established businesses to make sure that the HR policies and processes they have in place are compliant with current employment law and aligned with their business plan.

Whether it is setting you up to succeed, reducing your risk, coaching your managers or partnering with you to grow your people and your business, we can find a solution that meets your needs.
Services
Current Offers
HR Compliance
Employment laws change continually, making it a challenge to work out whether your business is compliant. Many business owners have told us they have sleepless nights, lying awake worrying about whether they're meeting their legal obligations. We're here to help.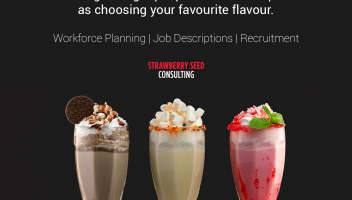 Recruitment
We provide an affordable customised recruitment process tailored to your specific needs, from a cost-effective local Facebook campaign to full-service recruitment. We are not a recruitment agency with a large base of candidates with little interest in finding the right person for your business.
FAQ
Is an appointment necessary?
Yes. We don't just provide one size fits all pricing. We get to know your business so we can provide you with a quote for a solution that meets your specific needs. We offer an obligation-free chat via phone, video or in-person so we can learn about your business and discuss how we may be able to assist.
Are there specific areas of your trade or industry that your business specialises in?
We work with small business, starting with those that are getting ready to hire their first employee. While we work with a range of industries across Australia, we specialise in Allied Health (inc Physiotherapy, Podiatry, Osteopathy, Speech Pathology), Building and Trades (inc Domestic and Commercial builders, Carpentry, Electrical, Plumbing, Plastering, etc), Retail, Hospitality and Professional Services.
Which geographical areas does your business service?
We are based on the Surfcoast in Victoria but we work with small business clients right around Australia. Not in Melbourne or the Geelong region? No problem. We work with you via video at a time that suits you.
Why should a customer hire your business over other service professionals?
Unlike some HR Consultants, we offer flexibility with how we deliver our services to you. You can engage our services by the hour, by project or purchase one of our HR Package specifically designed to address the needs of small business. What we don't do is lock you into long term contracts and provide you with a suite of generic documents. Education is the heart of what we do. We ask you questions, present you with options, and then customise what we provide you to your specific needs.
How do you normally charge for your services?
Every business is unique so we structure our pricing to the size and complexity of your business. Our Starting to Employ package starts from $900 plus GST for a business looking to engage their first employee. Our HR Business Support Packages start from $2300 plus GST (8 hour package paid annually) for those that are looking for ongoing support to manage the HR needs of your business. We are not a traditional recruitment agency. To suit the budget of small business, we tailor our support to your needs, charging $150 per hour plus advertising costs. You decide what services we will assist you with and then only pay for our time, keeping professional recruitment support affordable and accessible.
Be the first to recommend
Add recommendation