About
The Speakers Practice programs guide Service Professionals from uncomfortable with marketing and selling to CONFIDENT - with a strong understanding of how to build their client base to be fully booked and beyond. We do this by using a powerful marketing system - BookYourselfSolid® and a life changing presentation skills program the SpeakersTrainingCamp®. The Speakers Practice helps Service Professionals to get more clients, increase your visibility and help you promote your business.

Our three stage process is:

Stage 1 : Setting your goals and aspirations

Stage 2: Implementing a business building system

Stage 3: Promotion tools development, Content and Product Creation.
What we offer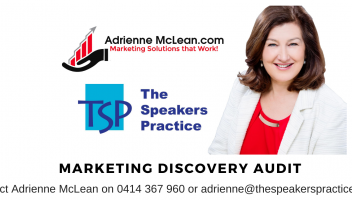 Marketing Discovery Audit
This audit looks right across the business development journey from the marketing, lead generation right through to the sales.

The audit looks at:
What is working to attract clients
What is missing to increase number of clients and profit
Activities to increase growth.

2 hour interview + report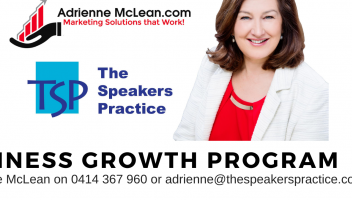 Business Growth Program
ARe you feeling;

Overwhelmed, there's so much to do?
Wanting some direction?
Going around and around?
Having trouble with marketing and sales?

Our Business Growth Program involves:
1. Goal and Strategy setting
2. Business system implementation
3. Promotion Skills

$440 for 10 months.
FAQ
Why should a customer hire your business over other service professionals?
Service Professionals are experts in their field but when it comes to marketing and sales it's another matter. Some even keep putting off doing their marketing and sales , this is where our business building system comes in to help business owners with marketing, personal selling and asking for the sale. The Speakers Practice offers training, mentoring and implementation with the proven business building system BookkYourselfSolid PLUS we offer confidence building with presentation skills training, video, podcast and online implementation. We help with marketing plan implementation and help with business development.
Which geographical areas does your business service?
We work in the Sydney district plus offer online mentoring and implementation work. We have online workshops.
What experience, certificates, and licenses does your business have to qualify for the job?
The Founder, Adrienne McLean has over 25years in business process, business systems and supply chain. Quality systems like ISO 9001 and ISO17025 and ISO45001 are part of her tool kit. From a business building side, Adrienne McLean is a certified BookYourseldSolid coach. This is a proven business building process designed for service professionals - it is a fast and easiest way to get ahead to grow. Adrienne has a BSc Hons , is a CPM with Australian Marketing Institute, Cert 4 Training and Assessment, Workplace Safety and Small Business Management. Adrienne is a Distinguish Toastmaster and is a trained facilitator.
Are there specific areas of your trade or industry that your business specialises in?
At The Speakers Practice, we specialise is helping Service Professionals navigate the business development process to get more clients. We look right across the business development process to see what is working, what needs working on and activities to help more clients. Confidence with sales is not always that straight forward. Se we help with presentation skills, how to talk about what you offer and other marketing activities to help your business get ahead. Customer service is vital and we help in this area.
How do you normally charge for your services?
The first step is: Marketing Discovery Audit - a 2 hour interview and report looking at the business development process - this costs $500 + GST Mentoring- dependent on the business - 1 person businesses - $500 + GST per month - minimum of 3 months - ideal is 6 months Bigger businesses is dependent on the work. Implementation - any activity from events, online program assessments, website management , training, system implementation and auditing - consultation and quote - $100 + GST
What makes your pricing competitive?
The personalised service and individualised assistance.
Customer reviews
Add a review