About
Think Outdoor is a Gold Coast-based advertising business that specialises in digital and traditional billboard promotions.
If you are looking to grow your brand these large digitals and classic formats will help give your business the brand exposure you need. We understand the right message, to the right person, at the right time is what drives customers to purchase.

At Think we utilise our rich audience data, to assist in that path to purchase. Whether you are after an end to end solution or simply a platform to elevate your brand, our mission is to help your business grow.
Services
Advertising
Advertising Distributors
Advertising-Outdoor Posters
Current Offers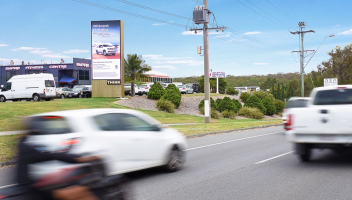 Advertising-Outdoor Posters
Large Format Digital
Superior resolution enhances beautiful imagery.

A beautiful image helps customers imagine themselves immersed in your brand. Whether you're looking to showcase in portrait or landscape, we have the solution.
FAQ
Why should a customer hire your business over other service professionals?
✓ We know all brands are unique ✓ We'll tailor a solution to your needs ✓ We'll talk through the best solutions for your budget ✓ We care about our clients' needs and requirements ✓ We'll provide the highest quality in print and customer service
Which geographical areas does your business service?
Gold Coast and Brisbane.
Is advance booking necessary?
Yes
Do you have disabled facilities?
Yes
Do you offer bulk bill options?
Yes. Contact us for more information!
What makes your pricing competitive?
At THINK our motto is simple 'Always do your best'. This guiding principle creates best possible outcomes for our customers, each and every time. We drive these positive customer outcomes through best practice, our attention to detail and breadth of experience within the team. Whether you are in market to monetise your existing space or looking to benefit from our vast network of sites, we are there each and every step. We understand the red tape attached to any sort of construction creates difficulties. Let us take care of that! We also know that understanding what compels your customers can be confusing. Let us help you with that! Over here, we like to THINK we are big enough to give you the exposure you need, yet small enough to give you the attention you deserve.
Be the first to recommend
Add recommendation