About
Yikes! Marketing by Steele Walster is a boutique digital advertising agency located in Perth Western Australia.
We are the #1 Pay-Per-Click Experts and offer expertise on a variety of platforms including Google Ads, Bing, Baidu and Yandex. We also offer Social Media Adverting Management and Strategy Consulting. We leverage all available digital footprints so your customers find you first every time.

After spending three years working on his passion project Surf Meal, he started to receive requests from his friends to help them with their digital marketing. They were impressed with the results they were getting. They were so impressed they started paying him.

Word quickly spread and soon all kinds of businesses were seeking him out for the unique combination of artistic design, writing skill, technical knowledge and most importantly, real-life experience running a business.
Current Offers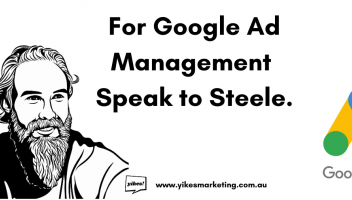 Google Adwords Management
I have dedicated Google Adwords Management. No outsourcing and as little automation as Google let's us get away with. Easy to work with. No lock in contracts. Just me working hard to maximise your profits through my skill and expertise.
FAQ
Why should a customer hire your business over other service professionals?
With me you get full honesty. Google Ads or Digital Marketing may not be right for your business at this time or at all! I will tell you that and I won't be trying to sell you services you don't need or that is outside my expertise. You either get the best Pay Per Click management or nothing.
Which geographical areas does your business service?
Typically I like to meet the people I work with and that is why my work is based near where I live. However during my time in Army and with ALDI expansion team I've made great contacts all around Australia and the world and do take on work if it's right for both of us.
What experience, certificates, and licenses does your business have to qualify for the job?
Full certification across multiple Pay-Per-Click platforms, Bachelor degrees in Multimedia, Journalism and Business Management. A wealth of business operations experience from micro start up to international. I understand business very well and what it's advertising needs to achieve.
Are there specific areas of your trade or industry that your business specialises in?
First that springs to mind is E commerce, Professional Services and Trades. I also love the hard to crack campaigns that no-one wants or can figure out like B2B and international B2B.
How do you normally charge for your services?
My fees are based on Ad budget tiers and are paid monthly. Larger the budget the more work required. Budget - (Fees)
What makes your pricing competitive?
The monthly spend. The fixed rates and the transparency.
Are there any special offers available to customers on SavvySME?
For SavvySME Business I will waive the initial $300 campaign build fee.
How is your business insured and what guarantees do you provide your customers?
No lock in contracts - walk away if you are not happy. I will disconnect and the account is yours.
What are your customers` most frequently asked questions?
When can you start?!
What is the profile of your ideal customer? e.g. industry, size of business, revenue, number of employees and so on.
I prefer working with the owner of the business, or the head of marketing. Preferably business with no more than 100 employees.
Is an appointment necessary?
Yes.
Do you offer after-hours services?
I provide training and consulting after hours on discussion.
Customer reviews
Add a review