About
Looking for a new & unique place to eat in Brisbane? Welcome to Za Za Ta Brisbane allowing you to experience a soulful blend of Mediterranean & Middle Eastern cuisine. A place where worlds and cultures collide amongst a sprawling, colonial backdrop and buzzing open kitchen. A place where worlds and cultures collide amongst a sprawling, colonial backdrop and buzzing open kitchen.

Experience a soulful blend of Middle Eastern and Mediterranean cuisine in Brisbane that brings a distinctly modern twist to centuries-old flavours, designed to be shared and savoured amongst friends.

Delight in plantation rum and artisanal cocktails, inspired by the vibrant Tel Aviv bar scene, amidst a warm setting rich in eclectic character.



Lunch: Wednesday -Saturday
Dinner: Tuesday -Saturday
Brunch: Sunday's
Bar: 7 days till late
Services
Hotel Restaurant & Club Kitchen Equipment
Hotel Restaurant & Club Supplies
Restaurant and Cafe
Current Offers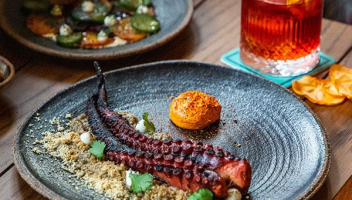 Hotel Restaurant & Club Kitchen Equipment
Smoked. Slow-cooked. Spiced.
Experience soulful vibe of Tel Aviv with a blend of Middle Eastern and Mediterranean cuisine that brings a distinctly modern twist to centuries-old flavours, best shared and savoured amongst friends.

From day through to night, discover a melting-pot of Israeli-inspired brunches and exotic dishes ma
FAQ
Is advance booking necessary?
Yes some time it may be necessary
Is there a surcharge on public holidays?
Yes
Do you ship outside of Australia?
NO
Does your business have an app to download?
No at the moment we don't have any App
What makes your pricing competitive?
Our Style, taste, Dining, and venue
Be the first to recommend
Add recommendation