ADVERTISING
Get much more for your advertising dollar.
SavvySME is designed to maximise impact for each advertising dollar spent. With sophisticated marketing techniques and features built into the site, B2B companies can derive better results on SavvySME than traditional online advertising.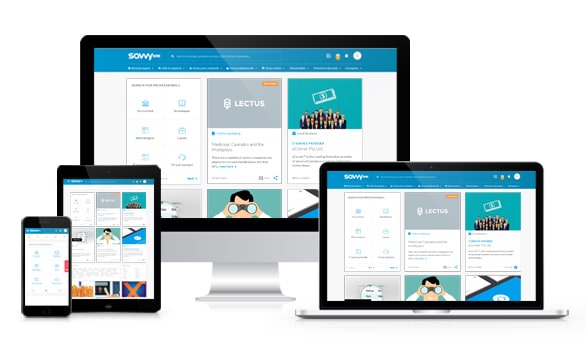 Advertising solutions
Great value
from
AUD
300
+ GST
Dedicated email blast.
Open rate higher than industry average.
Segmentation available.
Faster results
from
AUD
850
+ GST
Full digital inventory.
Ideal for educating your market and branding purposes.
Rich media option available.
Maximum impact
from
AUD
2500
+ GST
Tailored to suit your goals and budget.
Access to our full range of solutions.
Designed for maximum impact.
A quality audience
Our community is one of the highest quality audiences for advertisers targeting local SMEs. With a large base of respected experts and influencers, SavvySME is the trusted destination for SME owners and decision makers looking for quality products and services.
Stages in business
Our membership consist of
86%

in business

9%

are starting a business

5%

are thinking of starting up
Years in business
Duration Percentage
0–1 years

31%

1-3 years

18%

3-5 years

13%

5-10 years

17%

10-20+ years

21%
Size of business
Employees Percentage
1 - 4

70%

5 - 19

19%

20 - 49

5%

50 - 199

2%

200+

3%
An audience more engaged than ever
Our site encourages interaction and engagement above and beyond a typical news site.

We focus heavily on user-generated content and encourage users to interact with each other through articles and Q&A.
We have assembled thousands of small business experts who are always ready to help.

The site enables them to deliver rich, practical advice and support to our members and encourage them to support each other through their business journey.
Our brand is all about helping local small businesses, so there are added benefits to being associated with our site.

You will also be advertising alongside some of the largest brands locally and globally.
A community of savvy decision makers who are ready to buy
40%
of members use or plan to set up eCommerce to sell in the next 12 months
85%
of members see the Internet as vital or important to their business success
Top purchasing intent this year includes tablets, software, SEO, insurance, advertising, coaching, web design, and legal services.
80%
of member businesses has turnover up to $300k p.a., while another 14% has over $1m turnover p.a.
70%
expects business to grow steadily, while another 20% expects to grow rapidly in the next 12 months.
86%
sees business education as important to their success
20%
of respondents spent between $5 to 10k on business education last year
Word of mouth is the largest source of referral of new members to SavvySME, followed by organic search
72%
would refer SavvySME to friend or associate.
"

"

SavvySME has consistently been one of the top performers

A community such as SavvySME is profoundly valued. It's evident through its performance in delivering high quality results, relevant content and high engagement levels.

Across the HS3 Media Network, SavvySME has consistently been one of the top performers within the Business vertical. From banner activity, to bespoke campaigns the SavvySME team are solution focused, embracing new and innovative strategies recommended through market feedback.

Advertisers and brands have demonstrated a substantial interest for the community via reinvesting in repeat brand campaigns purely on the basis of performance. Ultimately, this speaks volumes and establishes SavvySME's value in reaching highly sought after and engaged SME owners.
Brands we have worked with