Re-Kindle your love for reading with the Kindle 4.
Rocking a 6-inch, black-and-white e-Ink Pearl display, the Kindle 4 uses revolutionary font technology for faster page refreshing and sharper text. Never be bored again during a business trip or waiting for a client. With its 2GB capacity, you can fit more than 1200 books into one, slim and compact device. The device has Wi-Fi features, which means you and can connect and download from the Amazon Kindle Store wirelessly. It also links with Amazon's cloud storage service, where you can access all of your purchased books from any device through your computer, smartphone or Kindle. In addition, Amazon's Whispersync technology ensures that you never lose your annotations, bookmarks, and the last page you read across all of your devices so you don't waste unnecessary time you could be working on your business.
Yours for just $60 for ONE DAY until stock runs out.
Get this super savvy deal now!
Features: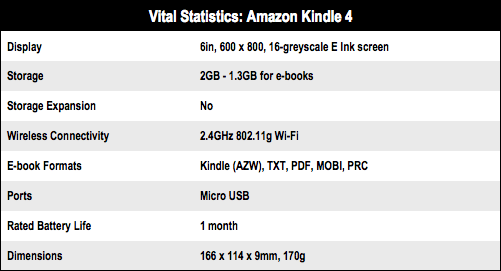 Fine print:
One year manufacturer's warranty from date of purchase, subject to manufacturer's terms and conditions.
SavvySME reserves the right to revoke this offer if deemed unsuitable.
Offer for Australian businesses only
Maximum one purchase per order